Getting there
As is often the case, getting there is half the fun. Or half the un-fun in this case.
Before we even left - about 4 weeks before - a huge storm went thru the west coast, dumping between 600 and 1000mm of rain in 24 hours. This took out one of the bridges on the main road - the only road - just outside of Franz Joseph. We managed to book around this, but that would have cut off about 30% of the trip, and added about 6 hours more driving to an already driving-heavy trip.
Thankfully, the army and other engineers rebuilt a bailey bridge in about 2 weeks, so the week before we were meant to leave, it was all back up and running, so we were back to our original plans and bookings.
We'd opted to rebook our flights to get down 5 hours earlier, as our original plans involved staying in Christchurch the first night. However, on the day, AirNZ was having none of this, and while we got to the airport for our 10am flight, we didn't manage to leave until 1pm. Still, 2 extra hours was great, as we got thru Arthurs Pass in daylight, and to our first nights accomodation just after dark.
Once we were in Christchurch, we remembered that it was Good Friday, so all but essential shops were shut. With no groceries for the first day, we were able to get some takeaways and gas and get on our way, feeling only a bit sheepish.
Not off to a good start, but it could have been a lot worse. We could have been "not on holiday".
Unwinding at the Woodpecker Hut
Now, to say that the two of us needed a break is an understatement. Burnt out and exhausted would be closer to the truth. Our first stop was the Woodpecker Hut near Punakaiki. We'd intentionally left the first full day empty of things to do, so after waking up (and totally forgetting to bring coffee), we headed into Greymouth, which is about a 40min drive south, to get supplies.
Stocked up on wine, coffee, chocolate and chips, we headed back to fire up the outdoor, wood-fired hot tub and relax with the local Te Chickens (Weka)
On the second day, after a quick morning soak in the tub, we headed north to Westport, via Cape Foulwind, inland to Inagahua, with a stop at the old ghost town at Waiuta, then up to Arthurs Pass for a proper look around.
Arthurs Pass really turned on the weather - or rather, turned on the rain. By the time we got up there, it was chucking it down and misty, which set the tone quite nicely. The Kea, however, didn't mind, and we had a nice, if fairly short and wet, walk up to the Devils Punchbowl in the rain.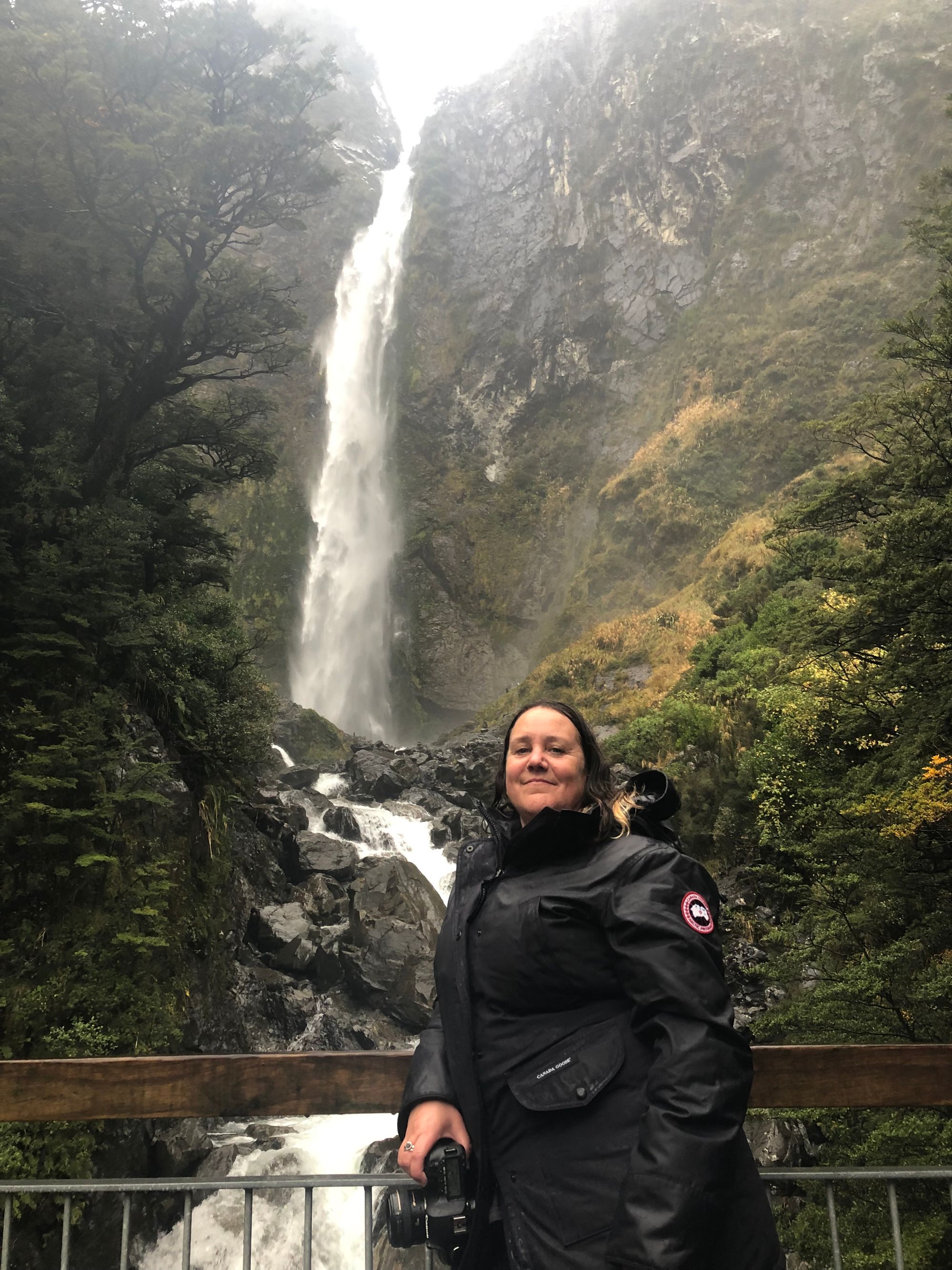 Sadly, our time at Woodpecker Hut was done, and we fired up the hot tub one last time and enjoyed the roar of the southern ocean.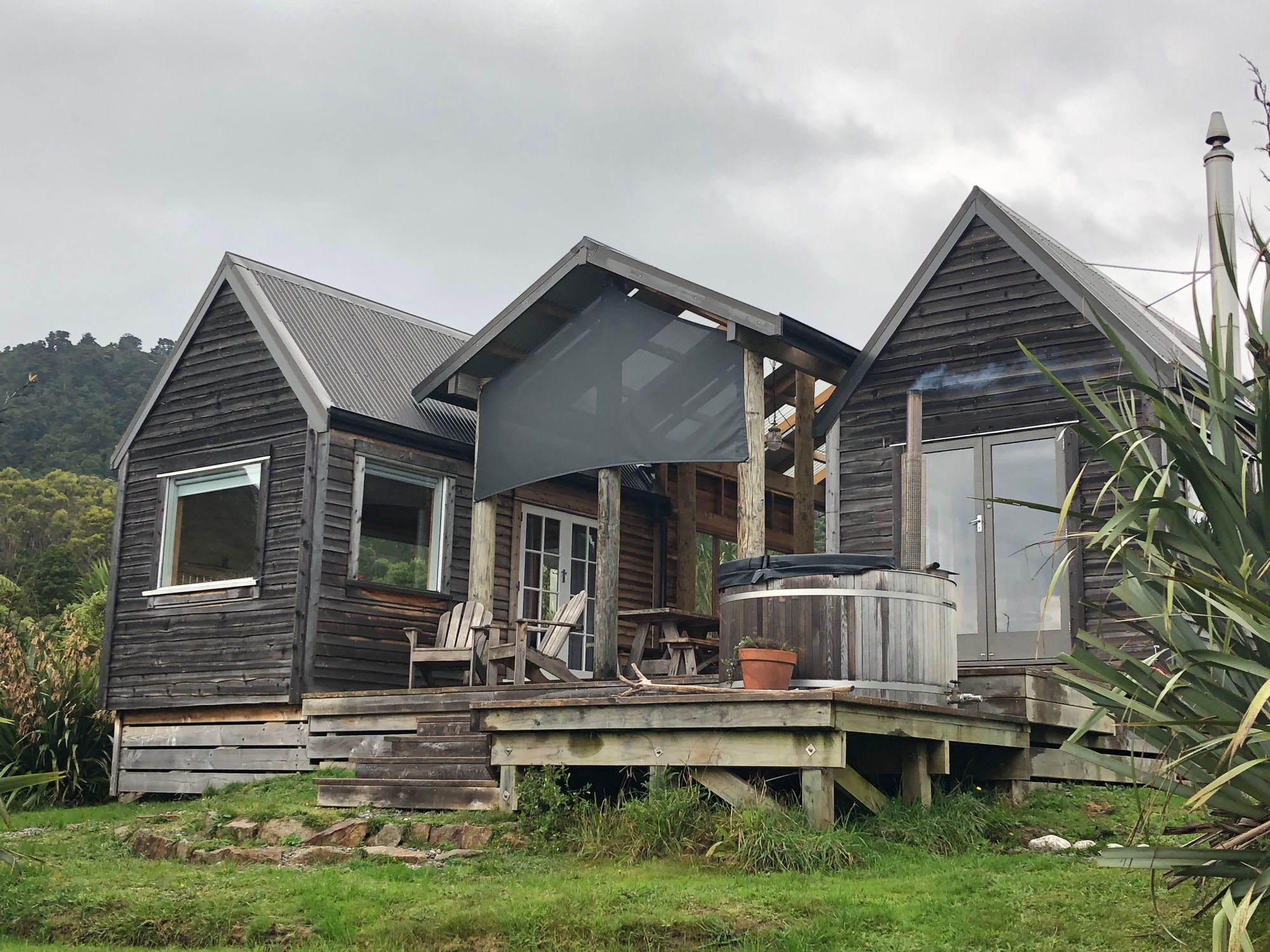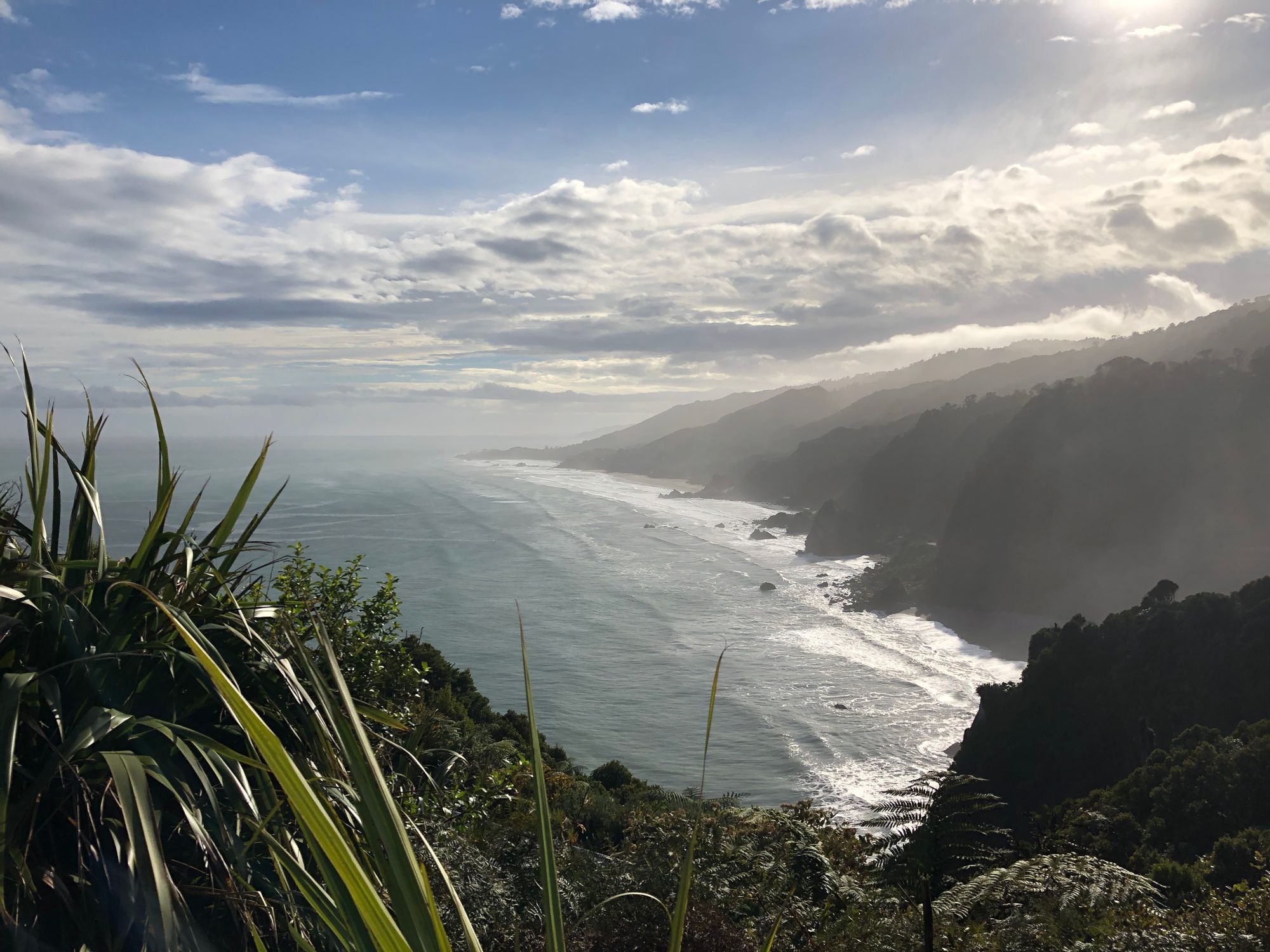 Okarito
Our next stop was a couple of hours south in Okarito, which is an old port town and large wetland, and home to, amongst other things, Rowi Kiwi, which are a rare subspecies of Kiwi. There are only about 600 of them left, and they only exist within the Okarito area. It's also home to Kotuku (Great White Heron), and a lot of others.
We arrived in Okarito right on sunset, and it was spectacular.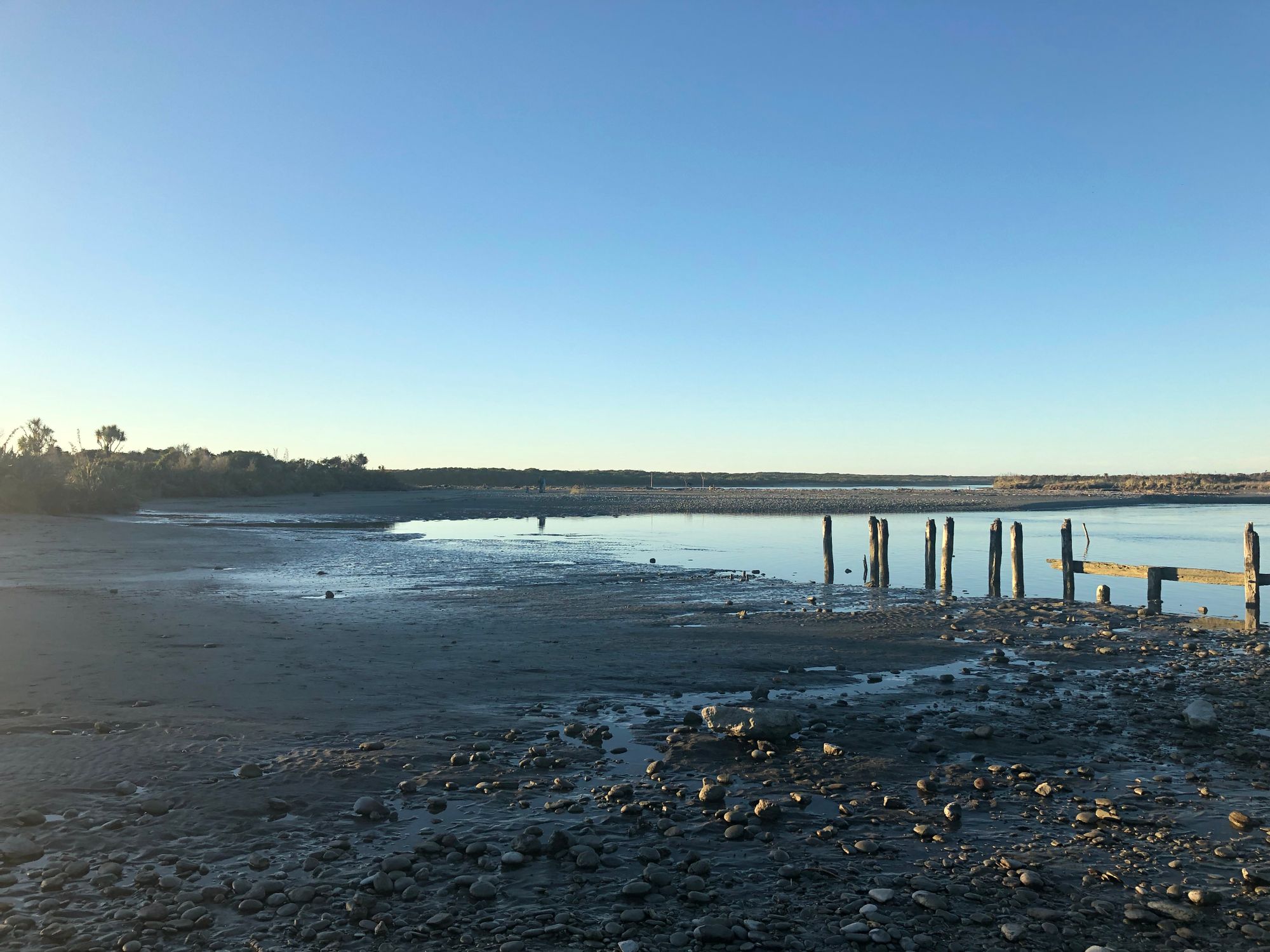 The next day, we headed south to Lake Matheson, and down as far as Bruce Bay, which had a great ice cream shack right on the beach.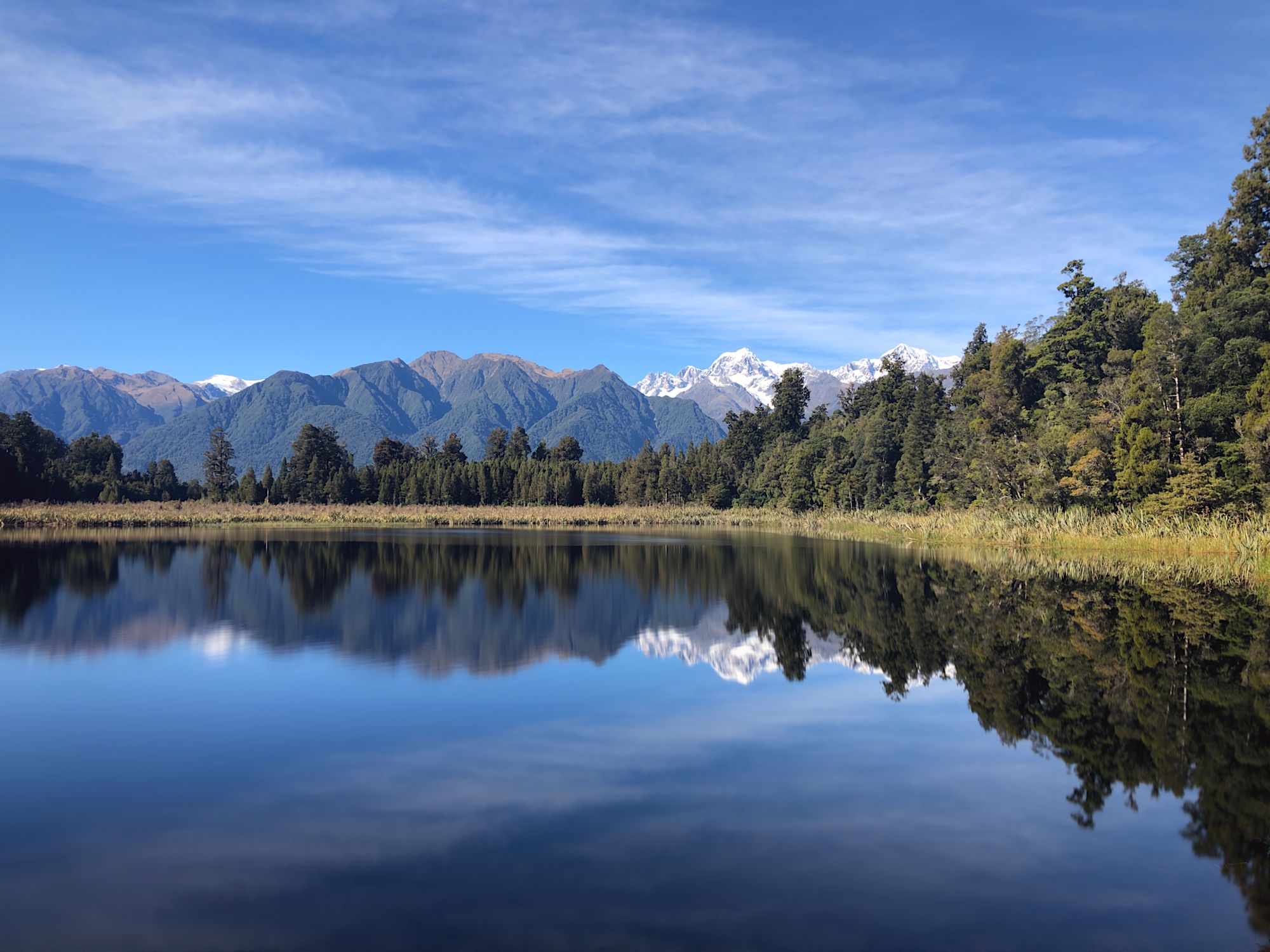 On the last day, we headed out on a boat trip into the Okarito Lagoon. It's normally a bird watching trip (I think we dropped the average age down by about 20 years), but it wasn't the right time of year for most of the birds. Still, we saw a few Kotuku, some of the other wetland dwellers, and when we were parked up having morning tea, a group of 4 Kea landed in the trees above us and proceeded to eat the berries, calling and laughing to each other. Magic.
From there we headed south again....
Haast and Makarora
Next proper stop was Haast, and lunch at Hard Antler in Haast, which is as hard case and kiwi as you might expect. We drove out to Jackson Bay, which is as far south as you can go on the west coast without a proper four-wheel drive. It very much feels like the end of the road there, with a couple of houses and an outpost of the local crayfish company. We did find a pod of dolphins (hectors we think, but not sure) swimming and hunting around the rocks on the way out, and Leonie got a couple of good photos of them playing.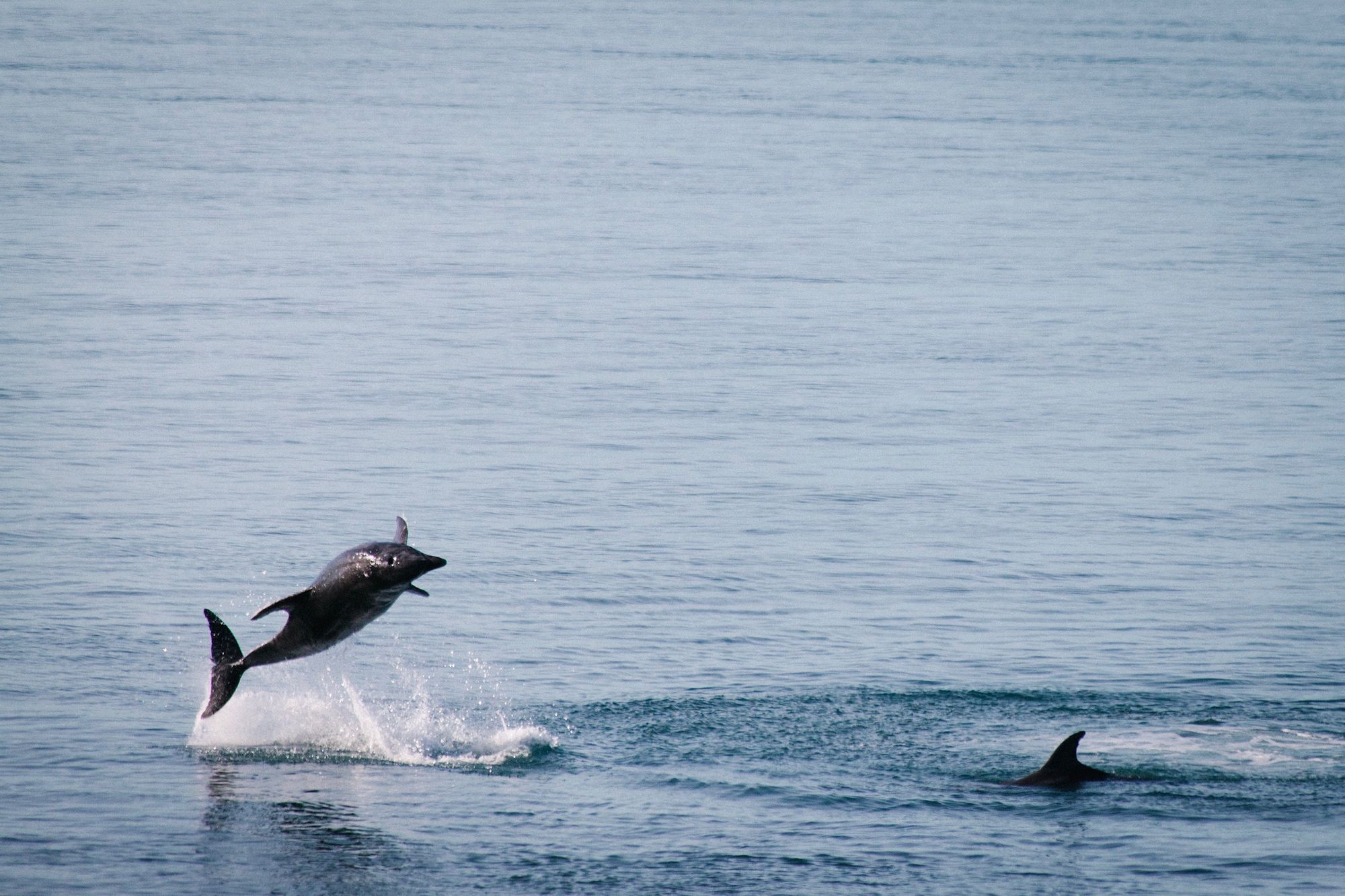 From Haast, we went over the Haast Pass to Makarora. The Haast Pass is quite low compared to Arthurs - you don't need to climb much to get over it. There are some spectacular views up there tho, and the river it follows is a beautiful light blue.
Tekapo
Makarora is a fair way up the river valley at the top of Wanaka, so it was quite cold when we woke up. We headed off to the Blue Pools, which would be lovely for a swim on a warmer day, then down to Wanaka for an amazing Burrito from Burrito Craft and some gas, and headed over the Lindis Pass to Tekapo.

This area reminds me a lot of the Scottish Highlands, except the hills are a bit taller, to the agreement of a travelling Scot I was talking to on the top of the pass. Like the Highlands, it's stunning country to drive thru.
We ended the day at Tekapo, which is a Dark Sky Preserve.
The following morning, we headed up to Mt Cook, which is about an hours drive from Tekapo. As we have had the whole trip, the weather has been perfect, usually clear blue skies, and today was no exception. Mt Cook was out and cloud-free, and the view from Now-lake-formally-glacier Tasman, down the valley, was stunning.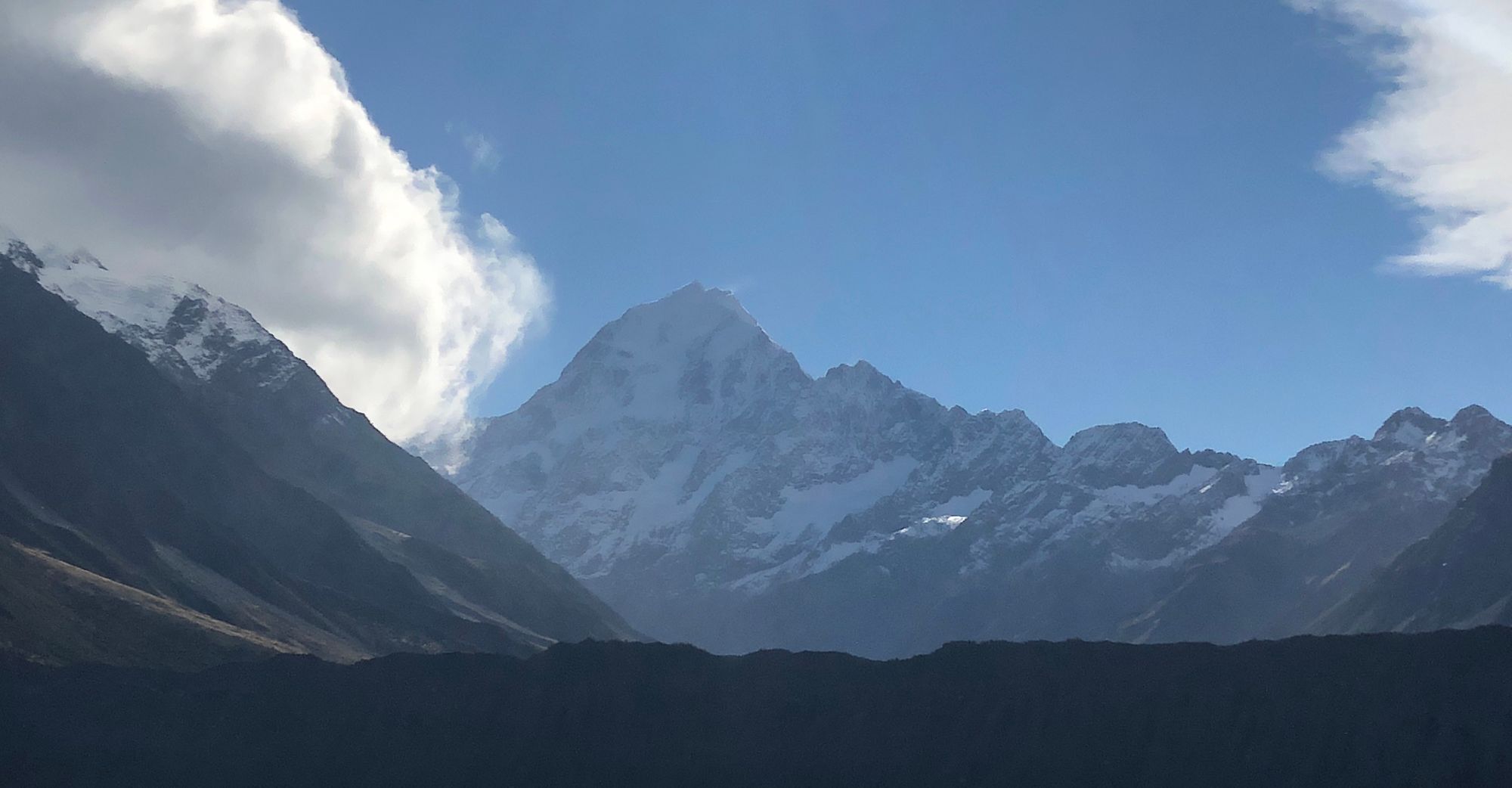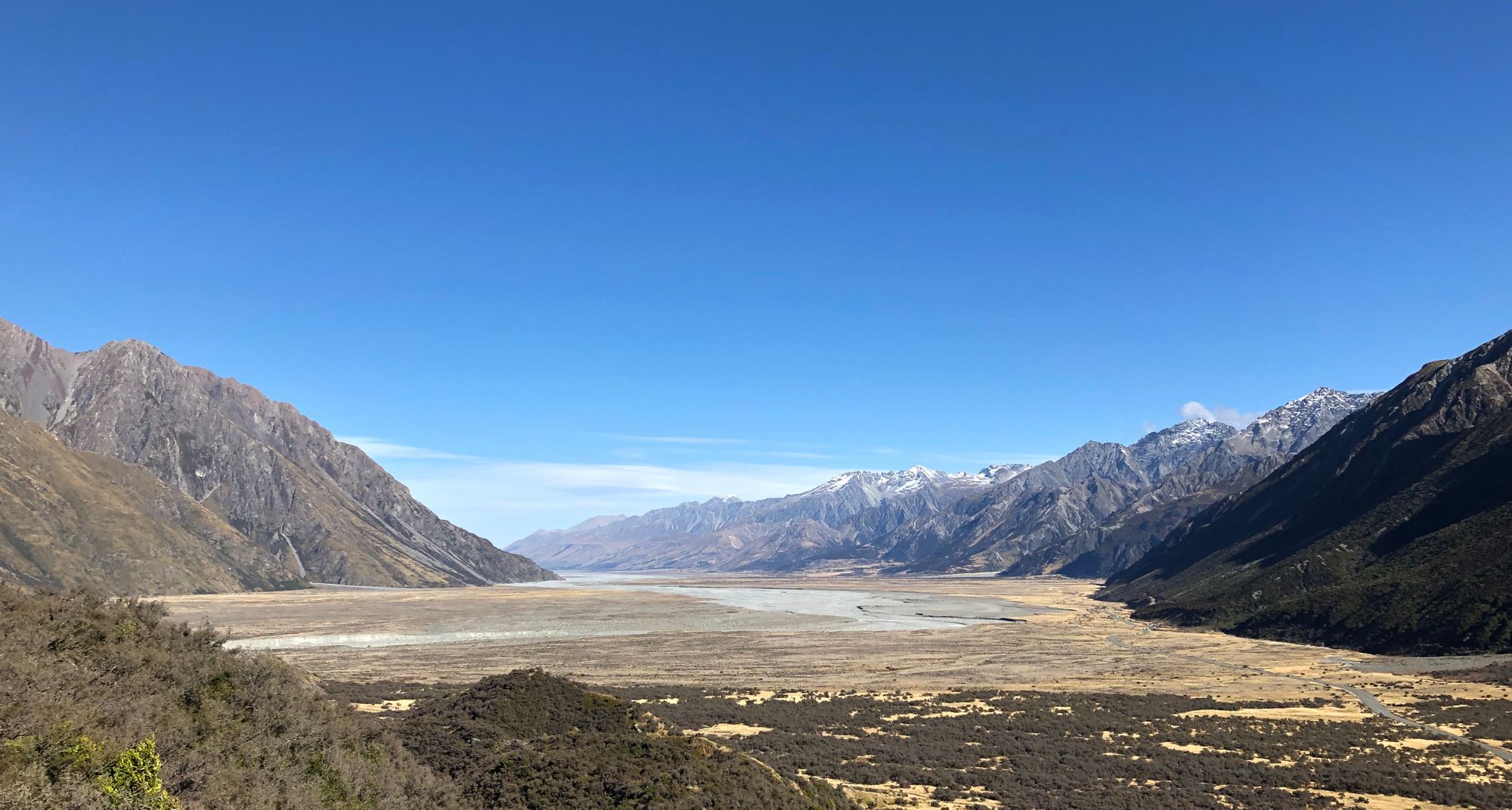 Lake Tasman is now a lake, with a glacier at it's head, about 5 or 6km long. In 1990, the whole area was a fully formed glacier. It's receeding at about 0.5-1km/year at the moment. The othor major glaciers - Fox, Franz Joseph - are receeding at a similar rate, and you can no longer drive or walk to them.
These will have gone from "normal" to gone in my lifetime.
Just let that sink in.
---
Thats pretty much the end of our holiday. I'm writing this in Tekapo, and we fly back to Auckland tomorrow, and work on Monday. It's been a wonderful, and well-earned, break, and like all holidays, isn't nearly long enough. We could have spent the whole week up around Woodpecker Hut, or the whole week around Okarito or Haast. We'll just have to come back.
---
Observations
If you think that cellphone cameras are not valid, primary-use cameras, you are just wrong. I saw a mix of large screen phones (maybe 95%), DSLRs (4%) and a few compact or micro 4/3's. Phone photography is what people are using. They are the current point and shoot.
The number of people doing things which have no purpose except Instagram or YouTube is disturbing and disappointing.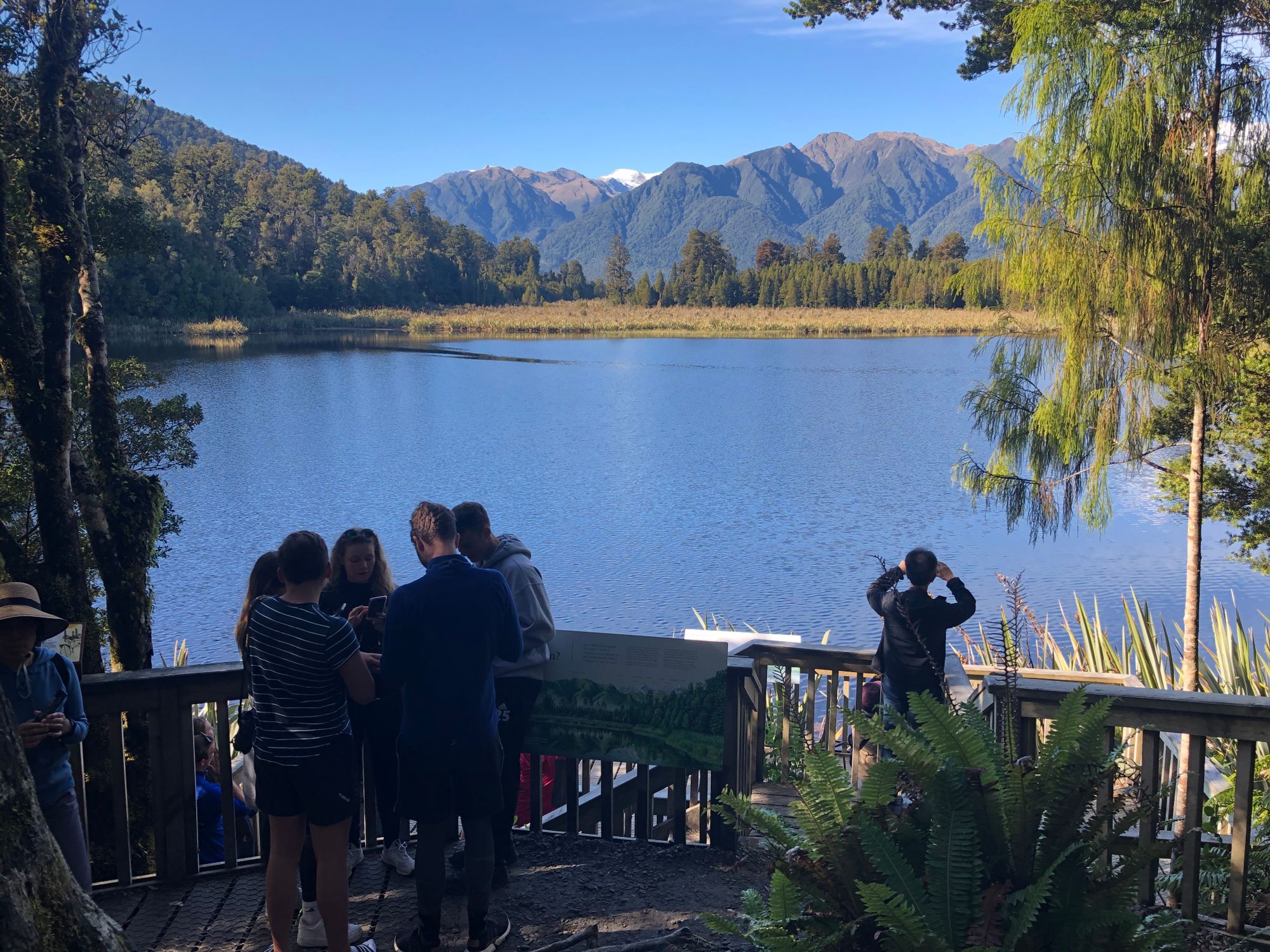 So many people getting to places which have amazing natural beauty, then seemingly ignoring it, after taking a couple of pictures, and just huddling around discussing which picture they should add to their Instagram Story. Then leaving. Or walking around looking at the back of a phone or gopro, rather than at the mountain they were filming. And then there were the drones (tho there are also a lot of no-drone signs, basically all of the national parks).
Lake Matheson was the most obvious example of this, but it was in a lot of the places we went.  (I could understand enough German to know roughly what they were saying)
Previously, I could never understand the Japanese, who'd flood out of a tour bus, take 100 photos (or video), then get back on the bus, until I talked to a Japanese friend who explained that they get around 2 weeks per year when they can take a holiday that they choose - what we'd call annual leave - and they have to cram in as much as they can. They live off the photos and video for months and years after. (They get more holidays, it's just public holidays where they don't get to pick the days).
I'm not sure there is going to be as reasonable an explanation for the Instabook crowd.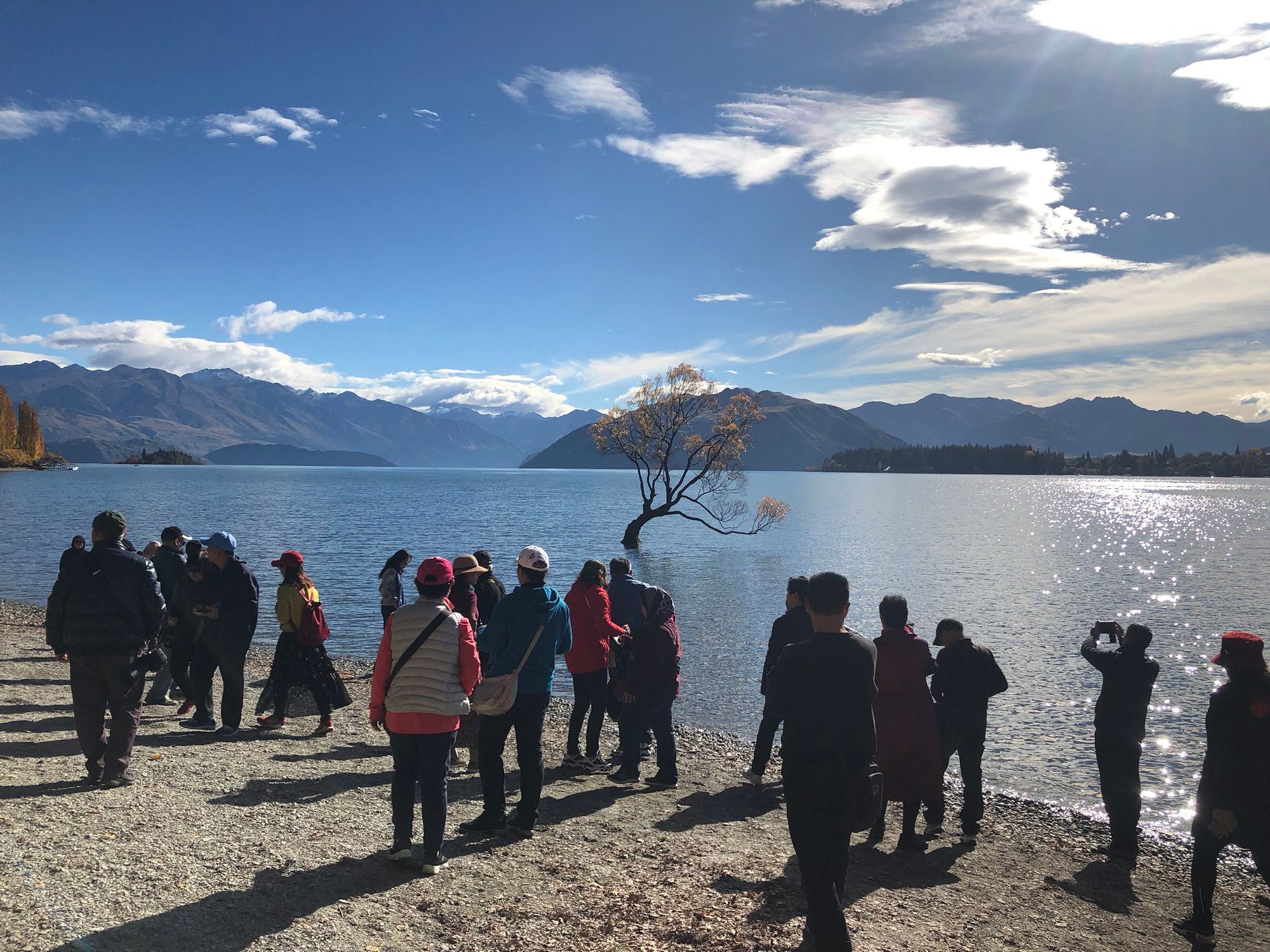 There's a lot of people down the west coast, and it's not summer anymore. We (NZ) need to spend a LOT more money on resources - toilets at camping areas and tourist spots, roads, track maintenance - otherwise the flood of people is going to seriously damage the already heaving environment. Even more so in places like Queenstown and Wanaka. If only the government could borrow at historically low rates...