I've been using Bear for writing and note taking for a while. It's a Markdown editor, but it also syncs nicely (iCloud) between my Macs, iPhone and iPad. It works great for writing blog posts, too.
This got us thinking: what if we could make it a little easier for Bear users to publish their writing? Once again, our Marketing & Research Division sprung into action to find where all the hip kids publish essays online.

With today's update to WordPress for iOS, you can now publish Bear notes to WordPress blogs. It's really simple to use:
First, make sure you update Bear and WordPress
In Bear, tap the share sheet at the top right of a note
Tap WordPress in the top row of options (learn how to enable app extensions on iOS)
The WordPress app will open. If you have multiple blogs, a screen will appear so you can pick one as your post's destination
A draft screen will appear with your post filled in, complete with proper formatting of all headings, links, text styles, lists, and even photos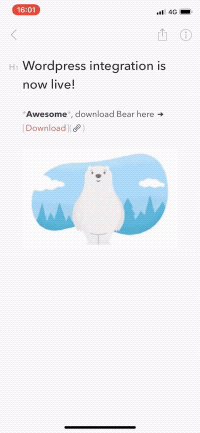 In theory, I should be able to write a small app which just logs into Ghost, pulls down the posts, allows them to be exported as TextBundle files (into Bear) or allows them to be shared to as TextBundles. They even have source code for it.
This would make it SO much easier, I think. Much better than trying to recreate the full editing environment, and keep it up to date with Ghost.
Side project, found.