I'm sitting here writing this in Port Charles, which is nearly the furthest north-east point of the Coromandel Peninsula, on the North Island of New Zealand. It's about an hour's drive, over mostly unsealed gravel roads, from the nearest "large" town, Coromandel, which isn't large at all.
The end of the road is about 10km further on at Stony Bay, which is very aptly named.
If you want to keep going from there, its about a 3.5 hour walk to Fletcher Bay, which is where the other end of the road finishes. This is definitely one of the more remote places in New Zealand, even tho we are only about 3 hours drive from home.
But while being fairly remote, it has the one thing we need to this trip to work: electricity. This is our first road trip with our new-to-us electric car, Katharine.
Katharine, named after Katharine Burr Blodgett, who invented monomolecular layers on glass, a foundational process for solar panels and LED/OLED lights, is a 2014 Nissan Leaf, 24kw. She's been pretty well looked after by her pervious Japanese owner, and has around 89% or so SOC, so we get between 120 and 130km out of the battery.
For normal use around Waiheke, this is loads - I charge maybe every 3-4 days, costing about $3 per charge. On a road trip, that can mean 2-3 DC fast charges in a day.
She fitted both within our budget, and also into our normal lifestyle. I'd love to drop $80k+ on a Polestar or a Tesla (ok, outside of the Musk factor), but that doesn't fit with our other current financial goals.
The trip
This is the first longer distance trip we've done in this car, or this type of car. Unsurprisingly this causes a bit of range anxiety, especially as we are in locations where cellphone reception is pretty much non-existent. However, so far, the car has performed exceptionally well and predictably - unlike my brain which has not performed exceptionally well, even if it was predictable.
We started in Auckland, from the ferry, and picked up a few bits around town before we left. We'd driven about 50km by the time we got to mum's place in Howick, where we used a local DC fast charger to charge up before we left. Thanks Vector for the free electrons!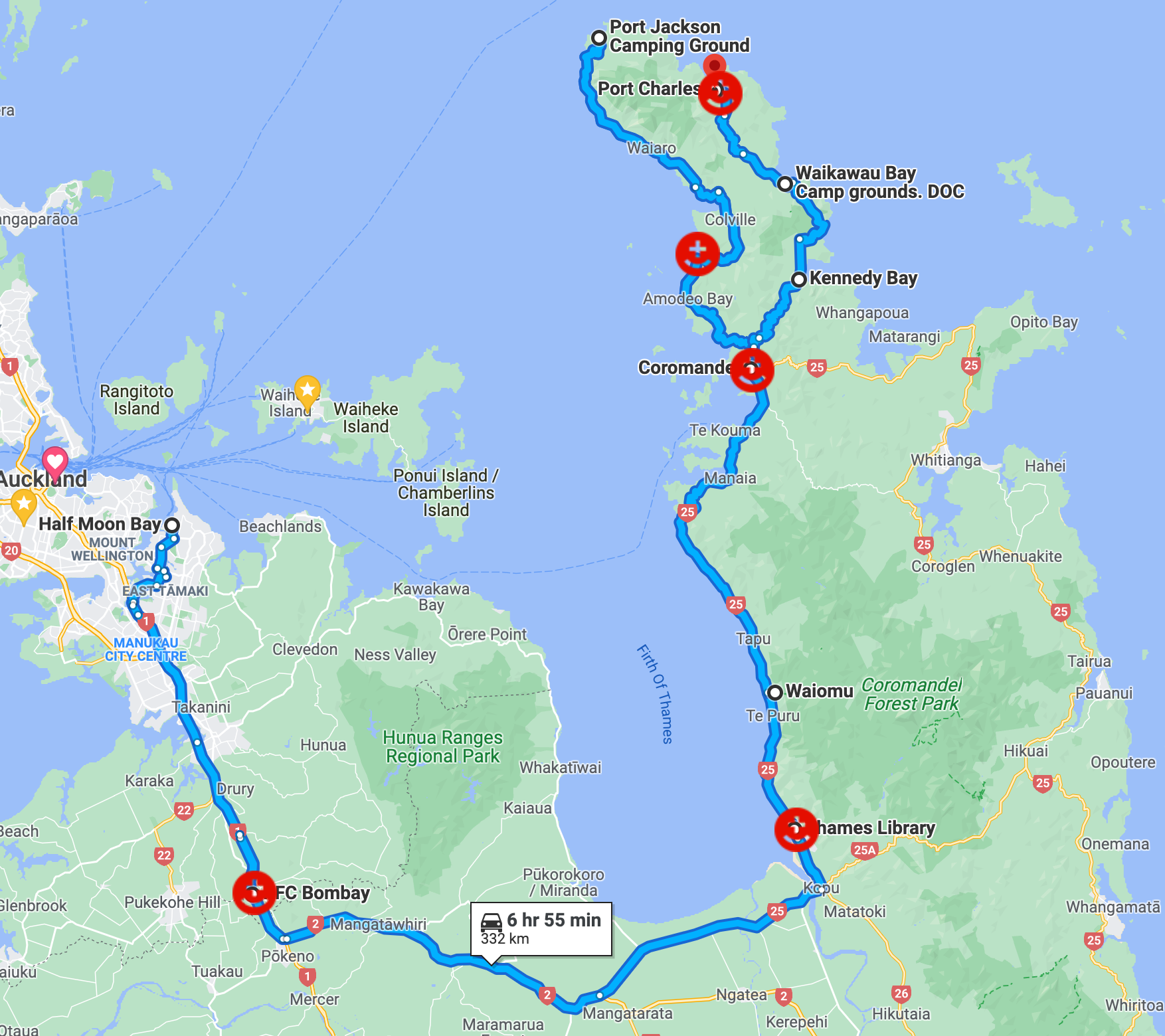 One thing to remember: this is during an unseasonably hot and humid period (97% humidity / 25-30degC) and also the day before a tropical cycle came thru.
Our second charge of the day was at the ChargeNet Supercharger at Bombay, around 40km down the road. The supercharger is a pretty impressive piece of kit, able to deliver 300kW per charger. It's way more than we can consume (50kW max), but I can see how you'd want it for some of the large, 100+kW vehicles.
15 mins later were we back to 92% and on our way. (7.6kWh / 40km driven)
From there we headed across state highway 2. We largely had a side wind, so we got to the next stop in Thames with about 30% left. Our first night was just up the road at Waiomu, and we got up there before the storm really hit. (9.7kWh / 60km driven)
One of the downsides of the Leaf is that the battery is not actively cooled, so three fast charges and a long trip means the battery pack is getting close to "too hot". This is not something I'd done any research into, so it was a bit alarming. After a bit of reading, it appears that the car will adjust the charge rate if it's too hot, and while in general it's not too bad to go at/near the red line, it's not something you should do too often.
The next morning, the storm was very much still a thing, with a head wind of 30-75kmh as we drove up the coast.
In an EV, the distance available is an estimate based on your current driving conditions. So if you are driving into a head wind of, say, 30kmh, you're effectively going 30kmh faster than you think you are, in terms of power used. I'm sure that math isn't exact, but it's close. Even tho our trip was around 40km, we used close on 80kms worth of range getting there. (11.27kWh / 40km driven)
Thankfully, the ChargeNet point at Coromandel still had power, so we filled up, got some groceries, randomly bumped into an ex-co-worker, and headed up to our second night. By the time we go there, it'd gone back to being calm and clear.
This second spot was about 10km south of Coleville, which is a tiny town about 50km north of Coromandel. The place we were staying had an outdoor caravan plug, so we put the car on for a long, slow charge overnight - incase the power went out.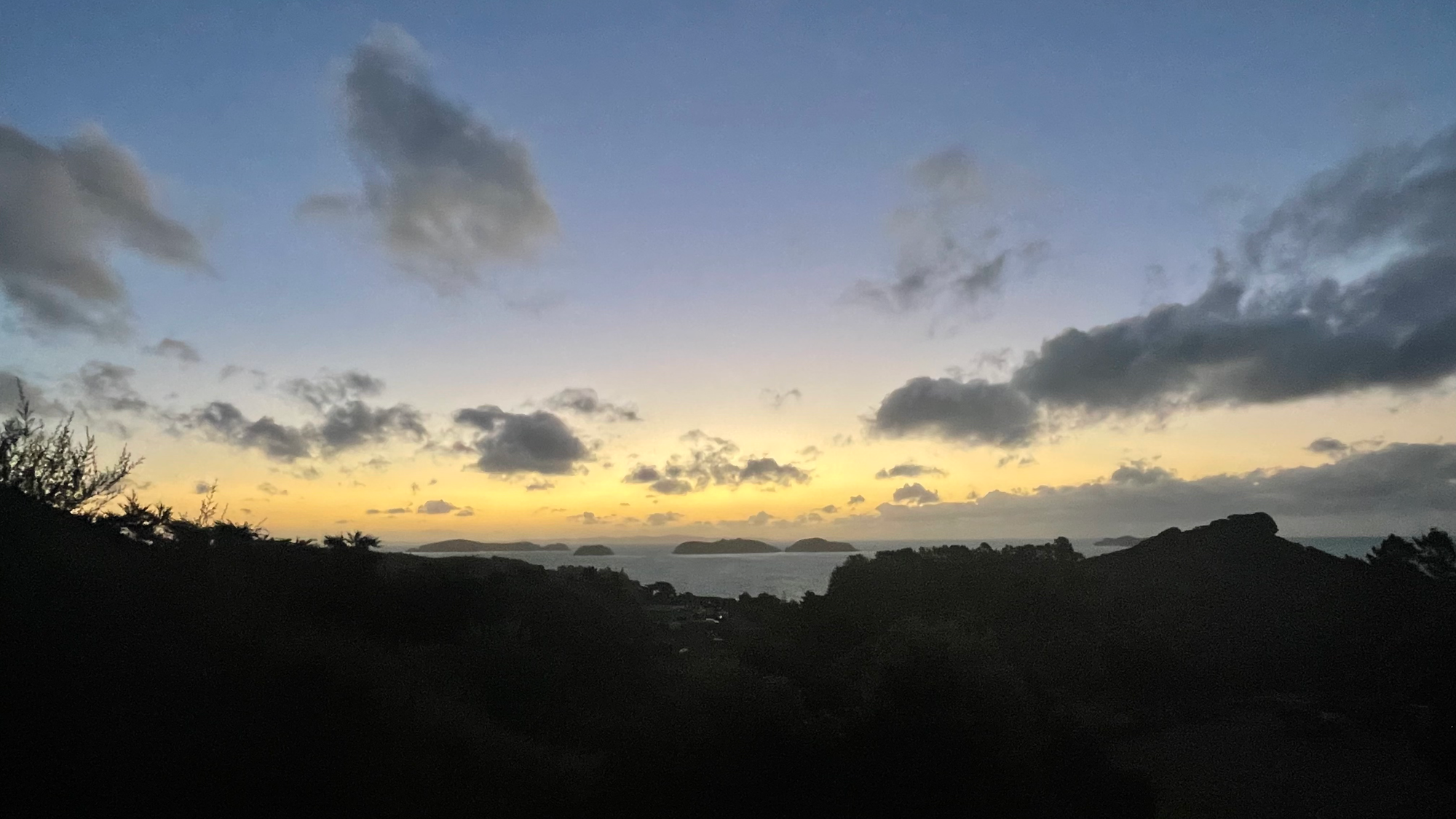 The following morning, we headed out for another drive - this time up the west coast, thru Coleville, to Port Jackson, which is almost the end of the road on that side. It's a lovely beach, about 40km up from Coleville, along a winding, single lane gravel road. While some people are not overly comfortable on these roads, I've been on them my whole life, either as a passenger or a driver. They are pretty easy once you realise you don't need to go more than 35-45kmh.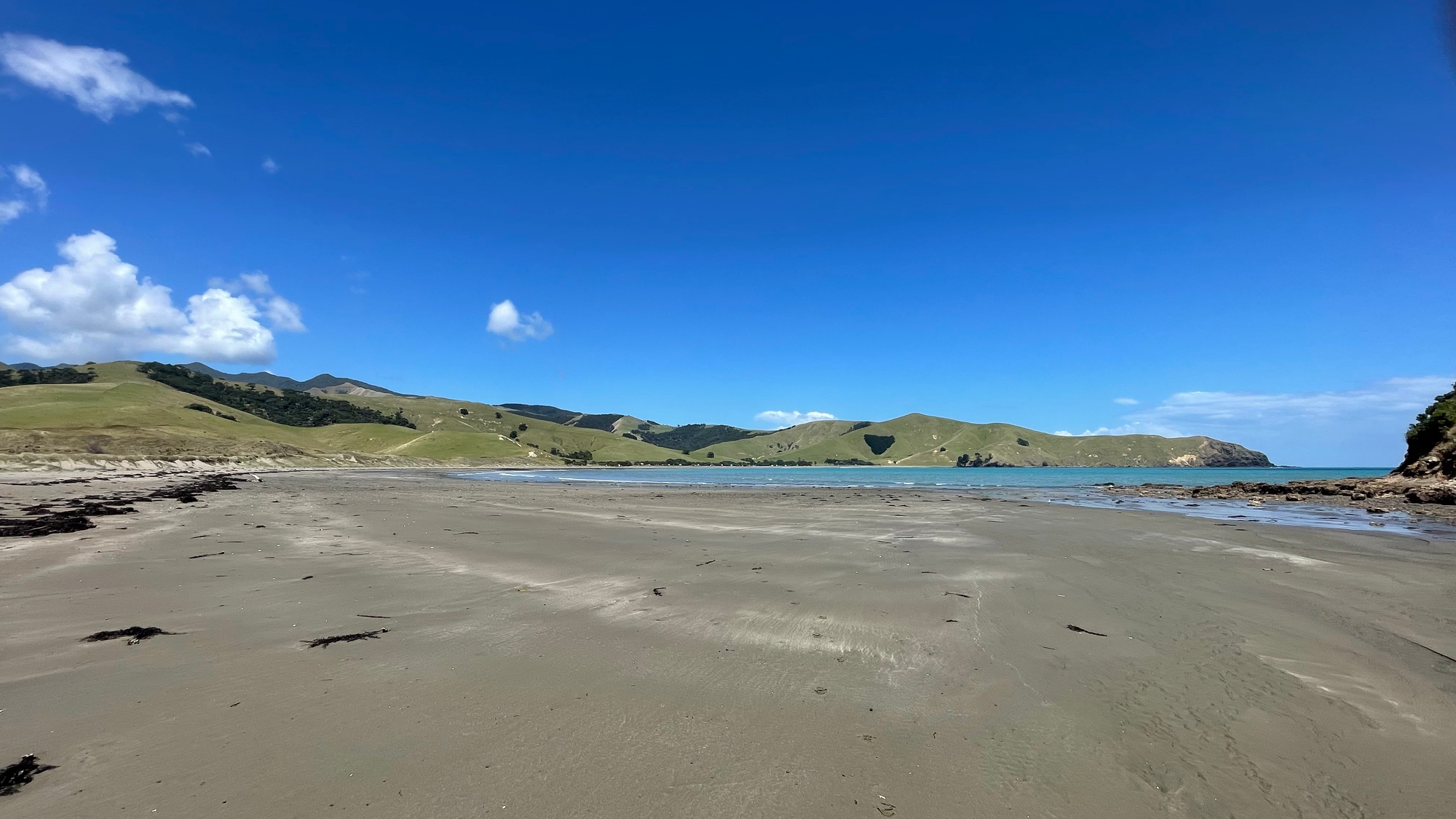 The camping ground up there looks great, and we'll have to come back with tents (and possibly an ICE car for my sanity)
In terms of the car, it performed brilliantly. The range meter was spot on, which might have been down to the slower than average driving, the regenerative braking works wonders going down big hills, and the car itself is a joy to drive on those kinds of roads. We got back with about 50% battery and about 60km on the range meter. (around 10kWh / 80km driven)
We only had 2 nights there, so we packed up and headed up to Port Charles, using the "back" road. It's about the same distance as the "main" road, which goes thru Coleville, but it takes about 50% more time. In terms of range, again, we had no issues, tho the big hill at the start chewed thru a lot of power. It was definitely worth it to have a swim at Waikawau Beach - another spot we need to come back to with the tent.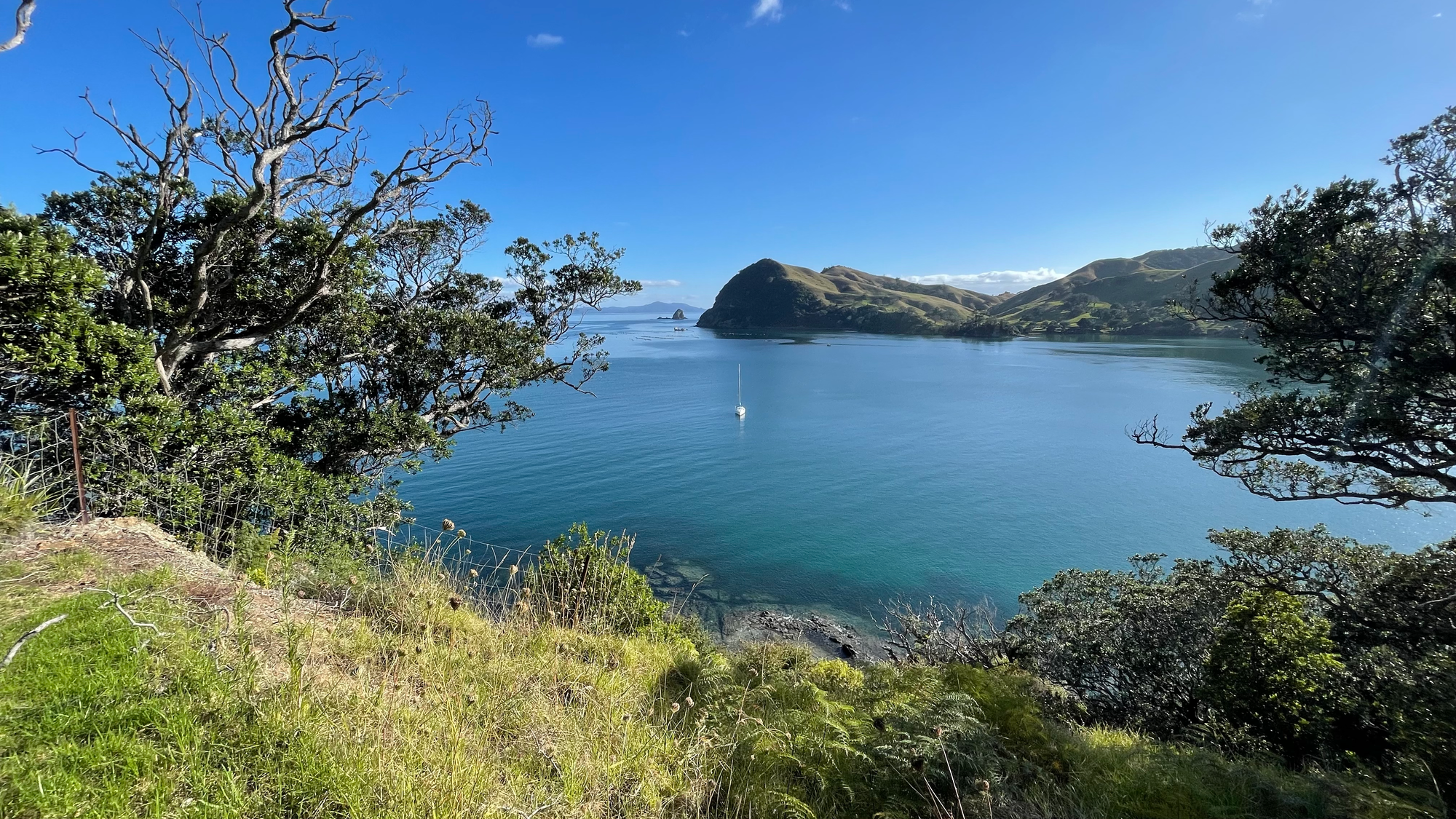 It's been a while since I've been up to this part of Coromandel, and I'd forgotten just how nice it is!
Final stop for a few days is Port Charles, at The Ruru Room. Again, we have the ability to charge the car here from a normal wall socket, even if that limits our driving range for the day to around 100km. However, there isn't much here outside of that 100km range we want to do, so that hasn't been a problem.
We headed up to Stony Bay for a swim and a look around, and down to the beach at Sandy Bay for a swim this morning. Other than that, we have no plans to go anywhere until tomorrow, mostly as there isn't actually anywhere TO go, which is the point of being here really.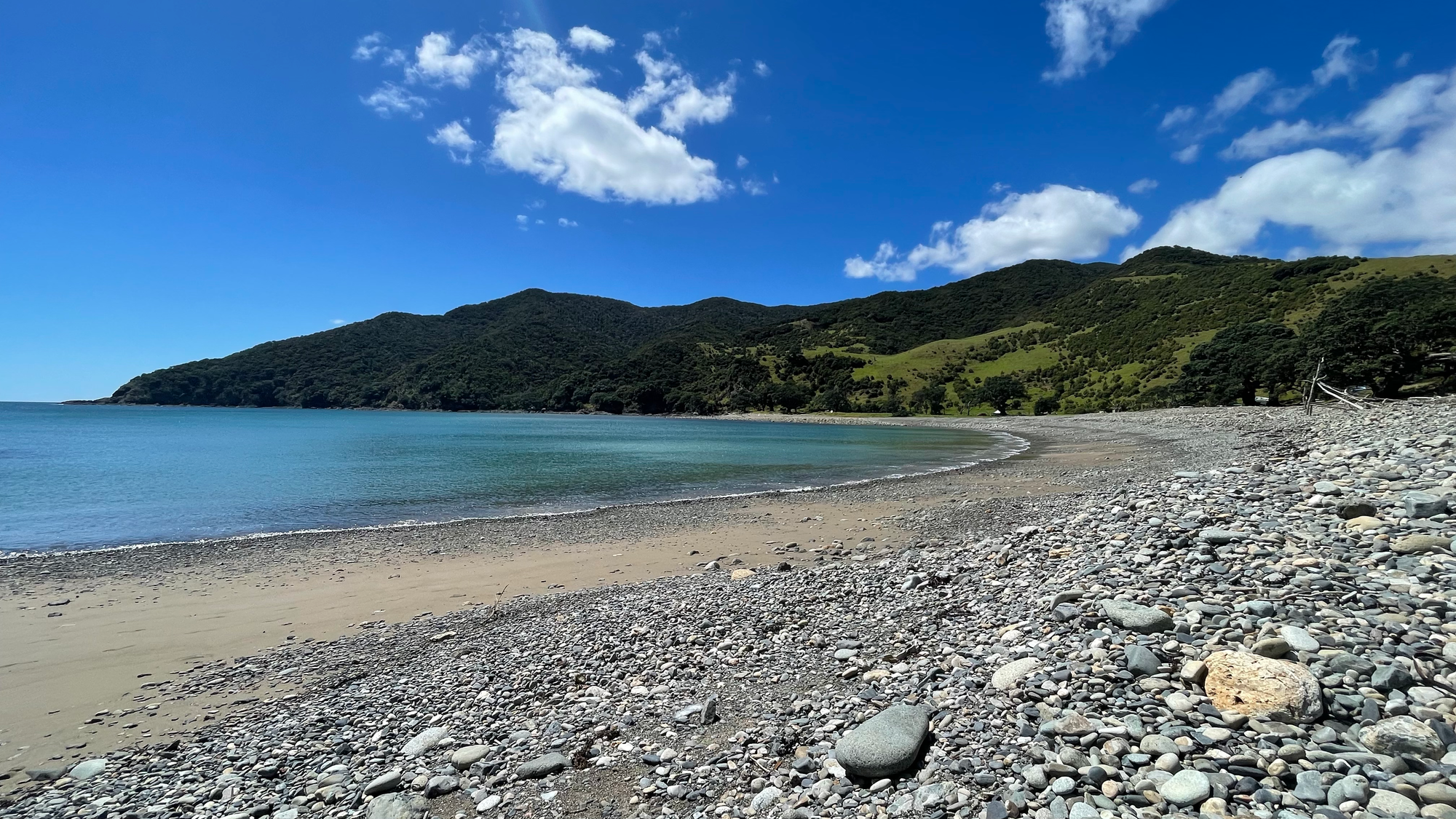 Tomorrow it's going to be back to Coromandel for a fast charge before we head over the 309 road to Hahei for the rest of the week. We might need to both stop, and recharge a bit, in Whitianga, but we'll see how that goes and if we need to (turns out we didn't, not even close).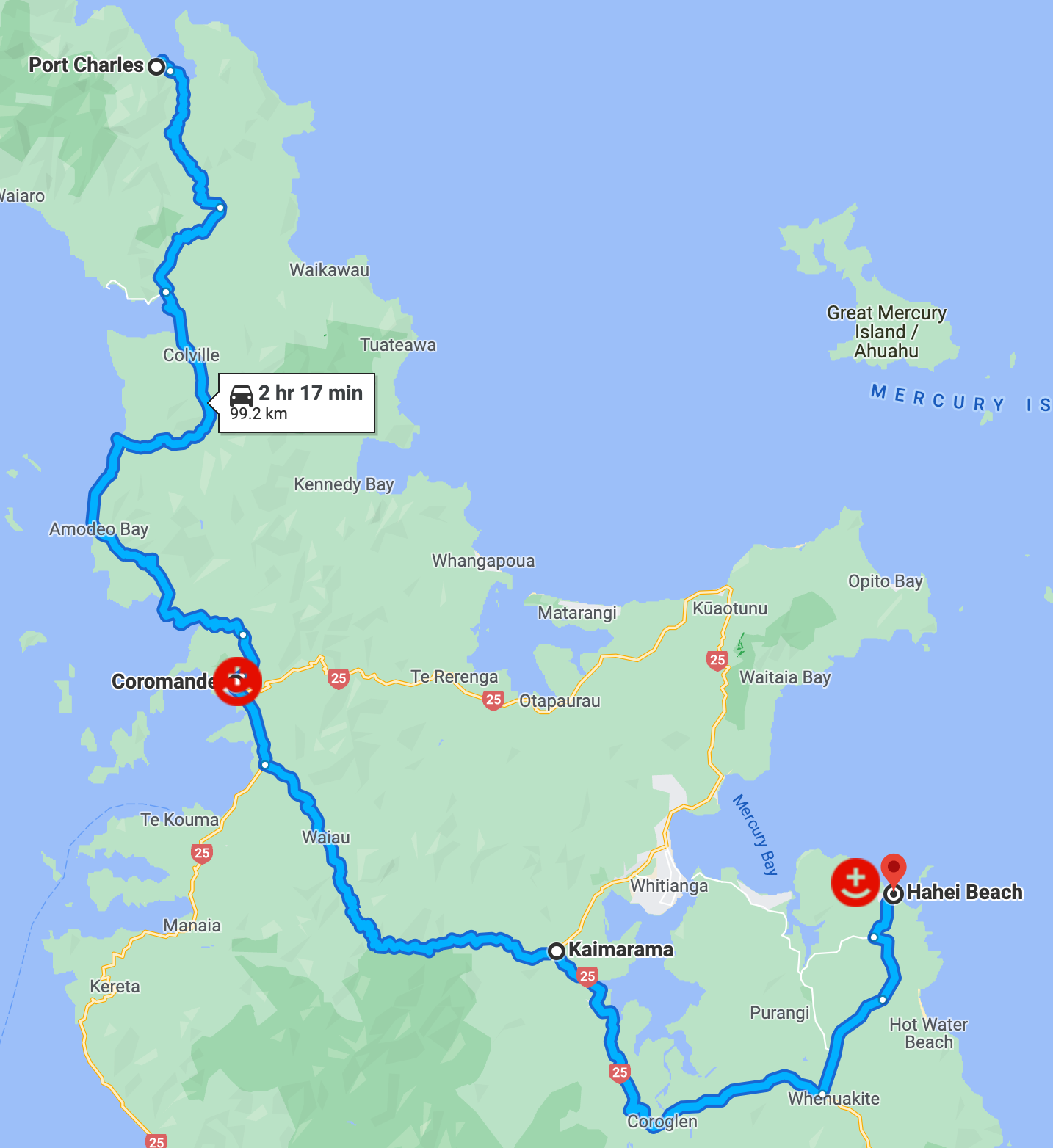 We are staying at Hehei at my cousins bach until we head back later this week - they used to have a place in Pauanui, but they sold it and bought here. It's a lot nicer, feels more like a community rather than a bunch of upper middle class Auckland. To be fair, it likely IS a bunch of upper-middle class Auckland, but it doesn't feel that way. The beach is a lot nicer too.
We are planning a trip to New Chum Beach, near Whangapoua, which might land us back in Coromandel - not sure. Depends on mileage and hills.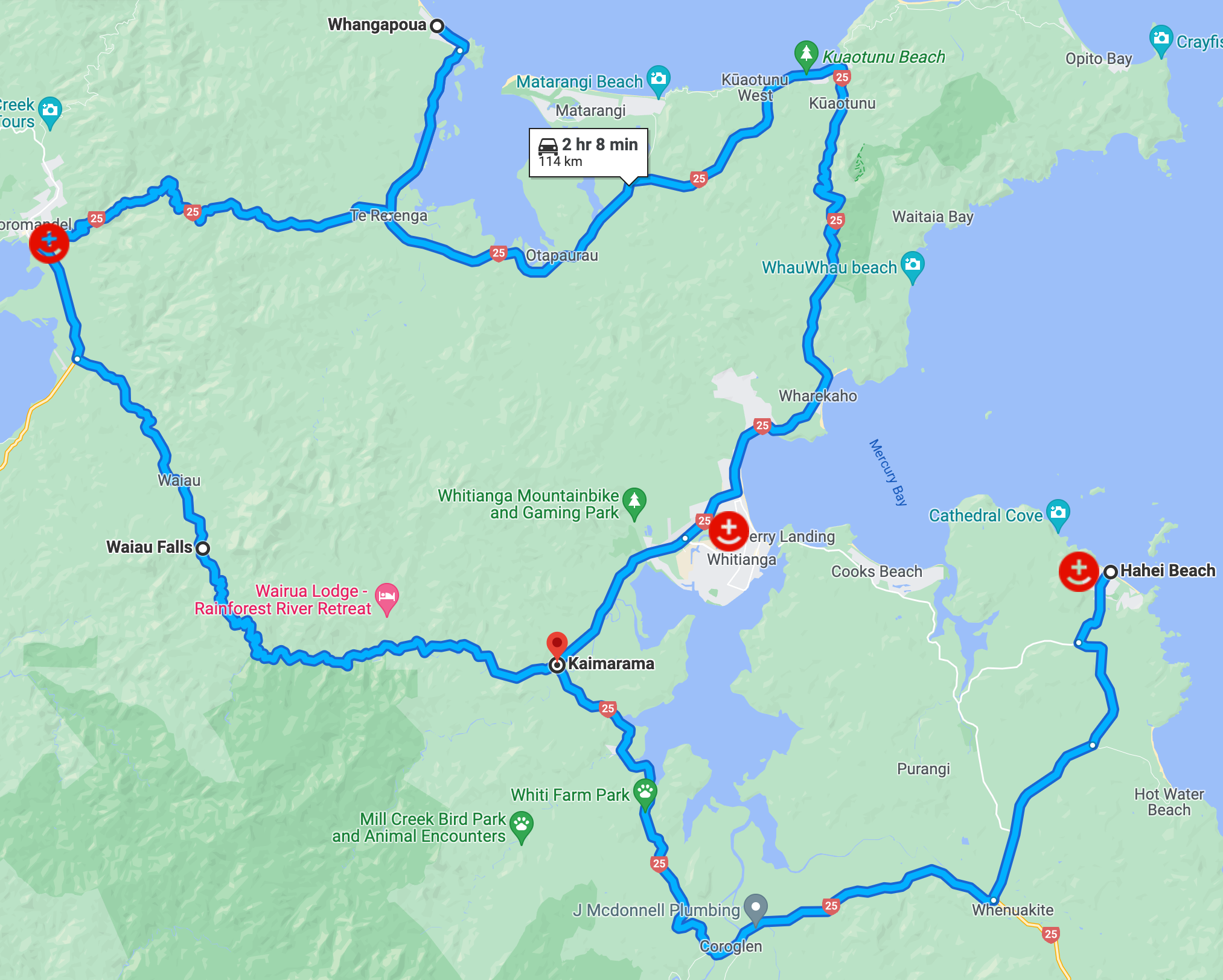 And then back home via Tairua.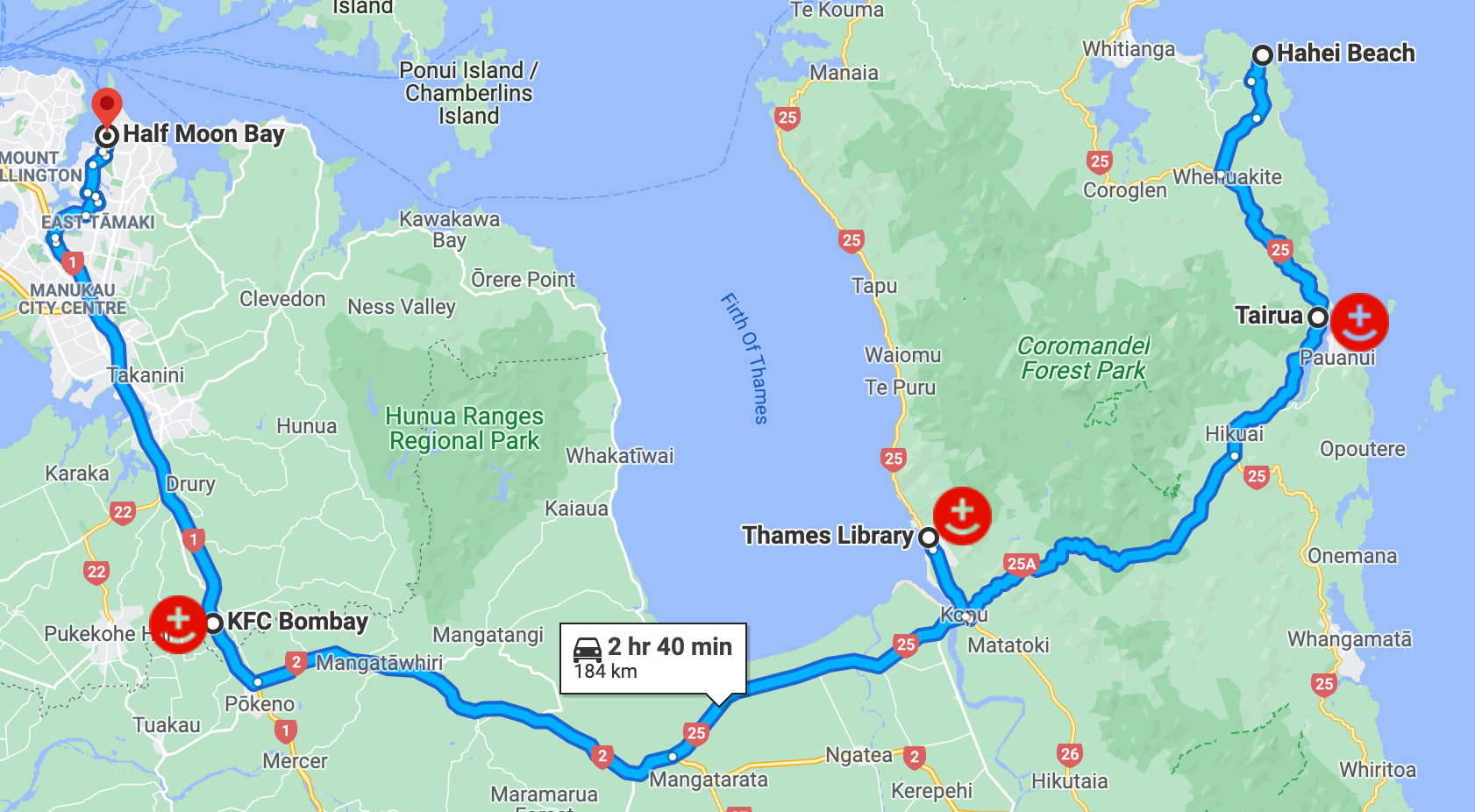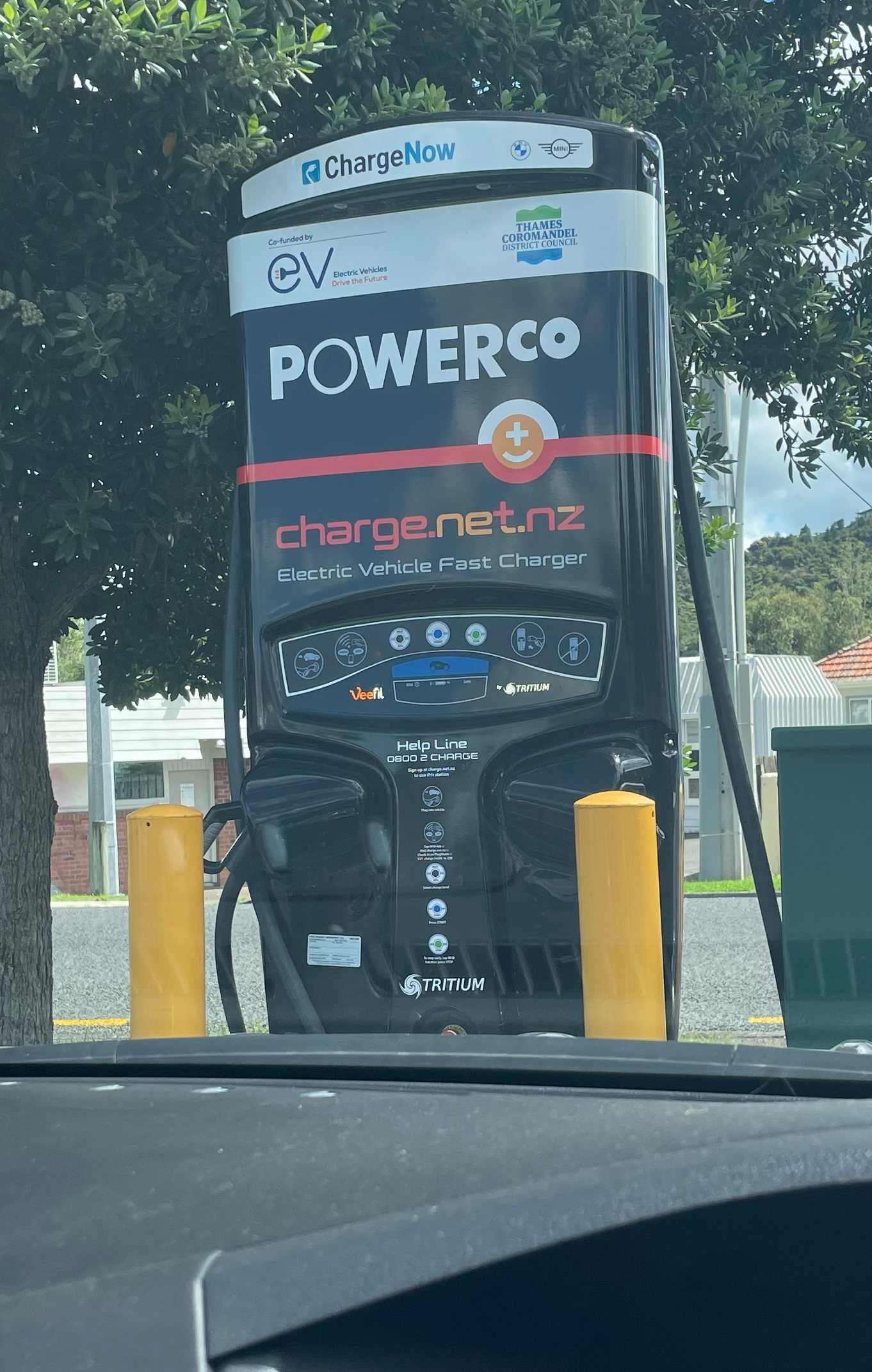 EV road tripping
So, would I recommend this? In a car with 200+km range, absolutely. The fast charge network is close enough that with an actively cooled battery pack and a more generous range, you could get around here without any range anxiety, even in a tropical cyclone!
With a 100km range, it's too limited to stop the monkey brain freaking out. It also takes away a bit of the "oh, let's just go up here to look at this" aspect.
With a bit of planning it's definitely achievable. Just not sure I'd recommend it.
Next time, however, we'd likely want to go camping, which means we have another 100-150kg of gear in the car, and a desire to go and stay places without power. I think, when we do that, we'll hire something else for the time. There is no reason to keep our other car (2006 RAV4), as even just the insurance and rego cost for a year is close on 2 weeks car rental of something similar. This was something we factored in when we bought the car - we'd need to rent something from time to time. We should still end up in the positive, tho.
The EV really fits well into our normal Waiheke Island life, so doing something which would normally be viewed as excessive for the couple of times a year we need to, makes sense.
At the moment, EV's feel a bit like SSDs did when they first became mainstream in around 2013.
The first models were still SATA3, and could deliver around 500MB/s of transfer. That was, however, around 10x a spinning rust drive. As they have evolved, they are now in the GB/s range, and most of the integrated ones match the speed of DRAM back when the original SSDs came out. Think about that for a moment: the "disk" on this (low end) Macbook Air has around the same latency and thru-put as the DRAM had on a 2013 Macbook Pro which I owned before it.
And I have 1TB of it for less than the 200GB SATA SSD drive cost in my Mac Mini.
EVs feel the same - like it's just the first generation of something which is going to substantially change how we think about transport. I'm not sure current L-ion batteries will get us there, but it's not going to be long until the Toyota Corolla equivalent low end car can get 400km on a charge, and charge in 15 mins, all for $25k new off the lot. The Polestar 5 looks interesting, as they are basing it off a whole new chassis platform, rather than re-using an existing one. Tesla is a bit ahead doing this - the original Roadster was a Lotus Elise platform - but the others will catch up quickly.
Other classes of vehicle will follow quickly - utes are in the pipeline, vans are already here in both small and medium sizes, buses are already deployed on Waiheke.
Question might be: will we have a usable planet at that point?
If money wasn't an object, I'd happily drop $80k+ on a new EV with 350-500km range, and I don't think I'd have any reason to rent or use an ICE car. Even an MG, at around $40k, would have enough range.
The new Polestar 2 looks wonderful, especially once I found out its basically a Volvo, rather than being some new unknown manufacturer. Volvo isn't normally on my list of car makers, but it can't be said they don't know how to make cars, and they have a solid network around NZ for repairs and the like.
Maybe in a couple of years, once the mortgage is far gone in the rear view mirror, and the prices of a second hand one come down to something more sane.
Katharine will be with us until at least then I think.