One thing I miss in iOS, which Android has, is auto expanding labels (and other views). Android has the wrap_content layout option, which works really well to flow a view.
<LinearLayout
    android:layout_width="match_parent"
    android:layout_height="wrap_content"
    android:orientation="horizontal">

    <TextView
        android:layout_width="wrap_content"
        android:layout_height="wrap_content"
        android:text="@string/currency_symbol"
        android:textAppearance="@style/TextAppearance.AppCompat.Large"
        android:textColor="@android:color/darker_gray"/>

iOS was lacking that - or so I thought. In the past, I'd had to use code to measure the size of a block of text, then set the frame and adjust other things.
var size = new NSString("Text here").StringSize(font, 9999, UILineBreakMode.CharacterWrap);
label.Frame = new CGRect(label.Frame.Origin, size);

Autolayout changes things a bit. It's all declarative-y and designer-y, so I prefer to keep things like that inside the storyboard designer as much as possible. I recently learned how to do this, tho: the >= (or <=) constraint.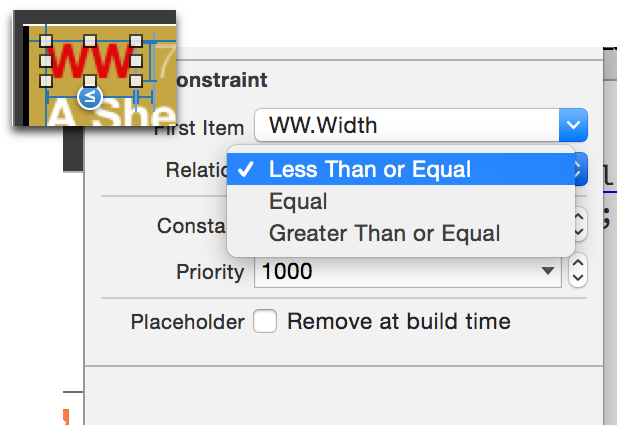 In this case, I want the stop identifier (WW) to resize based on it's content. It could be blank, or it could have one or 2 letters. I'm using the size of WW - about the maximum width - as the largest size, and allowing it to resize as needed. All the other constraints which are dependant on it flow from there.
The only constraint I need to manually adjust is the space between the WW and the following label ("7" in the image - "75m North West"), as I want to remove it - set it to zero - if the stop id is blank.
This works for vertical height too. Set it to be greater than or equal to the minimum height - usually one line of text, which is around 21 points - and set the number of lines to zero. The label will now take as much vertical space as needed.
---
This is not something which is obvious, at least it wasn't to me, but it solves one of the big blockers I had with both Autolayout, and iOS in general - dynamic layout, especially of text.