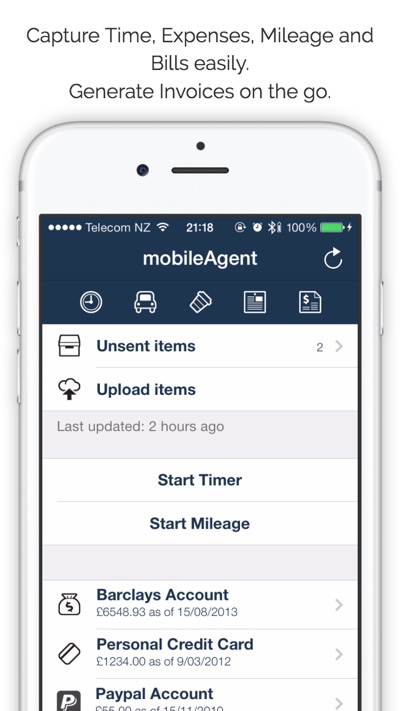 Never miss billable work because you forgot to record it.
Works with FreeAgent, IRIS OpenBooks, Barclays My Business Works and others
"[The] app is great and other than when doing my numbers etc rarely log in to FreeAgent doing most of it on the train." - Martin Chard, UK

"Helpful when you are on the run and want to log time and expenses. Hope he developer is making a decent living off of a solid product." - "StanielDenver", USA

"Really excellent. So many things now just get done on the fly that I probably on spend 10 mins a week on the PC version. Thank you." - "DryWhiteWine", UK

---
If you are having problems with mobileAgent, please have a read of the support page
or drop me an email (support@fastchicken.co.nz).
The current version - 3.7 - has a possible issue when you upgrade from a previous version. The solution is to delete the app and reinstall from the Appstore. I've submitted a fix (24/03) which should be live in the AppStore in a few days (~28/03). Thanks.
---
mobileAgent lets you record your important business information on the go - log your expenses, mileage, timeslips and more when they happen, rather than waiting until the end of the week, or worse, the end of the month.
Now you can access your FreeAgent or IRIS OpenBooks account on your iPhone or iPod Touch using mobileAgent - the mobile client for FreeAgent and IRIS OpenBooks, the UK's best online accounting solutions. It also works with the resellers of FreeAgent and OpenBooks, like Maslins Online, and My Business Works.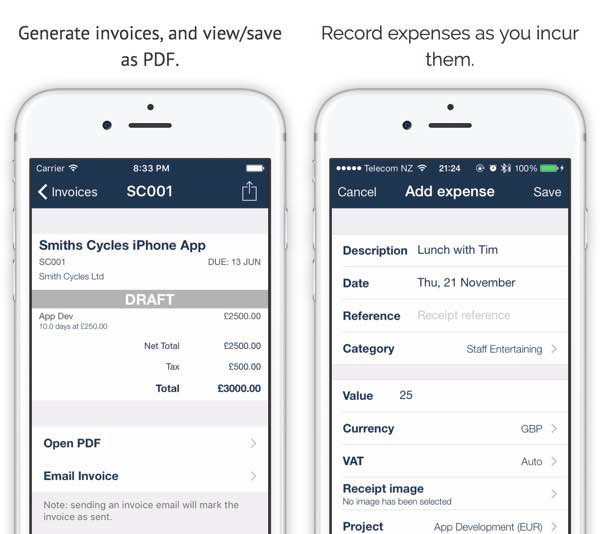 With mobileAgent you can:
Create timeslips either by adding a new task to a project, or logging time against an existing task. Add comments to your timeslips so you can recall what you did on the day.
Log mileage Handles all allowed forms of transport (car, motorcycle, bicycle), so you can reclaim and rebill your mileage.
Enter expenses: Just paid for lunch? No need to remember to do it when you get back to the office - log the expense into FreeAgent at the table.
Record bills: Received a bill and don't want to forget about it? Take a photo and log it into FreeAgent immediately.
View your outstanding, overdue and draft invoices, and send email reminders from inside the app.
Attach a photo of the expense when you enter it. No more keeping receipts and scanning them "later".
Take photos of receipts for later upload. The receipts can be send via email, or stored in Dropbox, so you can get to them easily later.
All attached images can be uploaded to Dropbox or saved to the phone's photo library.
Add and update contact and projects. You can add a new project, or change the phone number of a contact when you find out about it, rather than waiting until you are back at your computer.
Enter items while you're offline: Enter things when you remember – even while underground or on a plane. Sync back to FreeAgent next time you're connected.
Import contacts from your phone into FreeAgent. Have someone in your address book, and want them in FreeAgent? It's as easy as a single tap.
---
Will it work for you?
mobileAgent works with iPhone (6S+ thru 4S) and iPod Touch (5th generation) with iOS 8.0 or better.
Can be used on the iPad, but is not specifically designed for it.
Requires a FreeAgent account or an IRIS OpenBooks account. This may be provided by your accountant.
Timeslip, Mileage, Expense and Receipt recording work without an internet connection
Syncing to your FreeAgent account needs an internet connection
Can be used with any FreeAgent account type – UK, US and Universal.
If you are having problems with the application, please read to the support page.