mobileAgent allows you to create, edit and sent invoices from you phone without having to use the FreeAgent website.
Creating a new invoice
On the Invoice tab, hit the + button, then select the various options needed.

Once you have filled in the required fields, hit save. mobileAgent will try to upload the invoice immediatly (you can change that in the settings). Once it's uploaded, it appears as a draft invoice in your list of invoices.
If you have automatic upload turned off, the invoice can be uploaded in the same way that timeslips, expenses and other items are uploaded.
Editing and deleting an invoice
Once you have a draft invoice, made within mobileAgent or in FreeAgent, you can edit it by selecting "Edit Invoice" in the action menu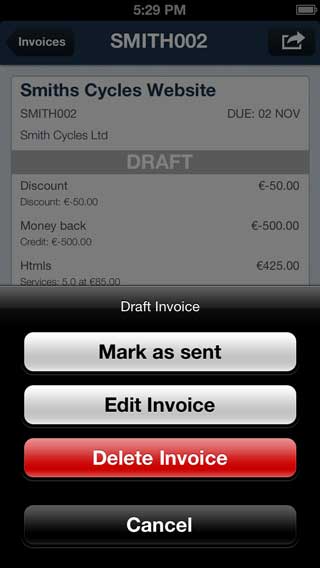 Once you have edited the invoice, it will be uploaded to FreeAgent and again appears as a draft invoice in your list.
Note that editing an invoice results in the original invoice being deleted, and then recreated.
If you select "Delete Invoice", the invoice will be immediatly deleted.
Sending an invoice by email
To send an invoice by email, hit the "Email Invoice" button. This prompts you for who it is going to, as well as the subject and body. The body is based on a template which can be set in the Settings screen.
The fields are populated from the project or contact information, but you can change them to anything you like. The email is sent from the FreeAgent servers.
Marking an invoice as sent (or as draft)
A draft invoice can be marked as sent. This does not send the invoice, it only marks it as sent. This is the same as hitting the "Mark as Sent" button in FreeAgent.
A sent invoice can be marked as a draft, which then allows it to be edited.