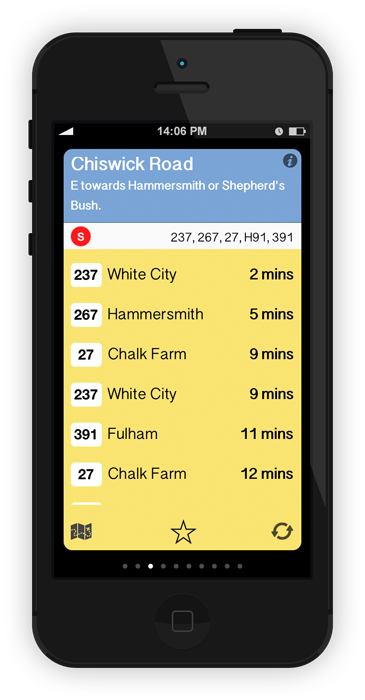 London's Nearest Bus answers the one question you have when waiting at a bus stop:
When is the next bus coming?
Winner of the TfL Accessible App competition for Visually Impaired users! TFL Press Release

"With a single button press it detects my location and finds out all the buses including the one I catch to work everyday. This will be my daily user for sure." - Vich14

"This app is brilliant, the amount of time I have saved on not waiting on buses. Come winter this will be especially useful. Brilliant value for money" - Bilabus

"I have been using the app for a while. I have got few other similar to this. But this is the best. 100% recommend" - Imrankhan999

Standing at a London Bus Stop, wondering when the bus is going to show up? Nearest Bus will find the stop you are at, and tell you when the next bus is going to arrive.
If you are near a number of bus stops, just swipe to find the one you are actually at - you can even use the local bus stop codes (eg HK, WA) to make sure you are looking at the right information. Nearest Bus will load up to 16 bus stops, 250m in all directions around you.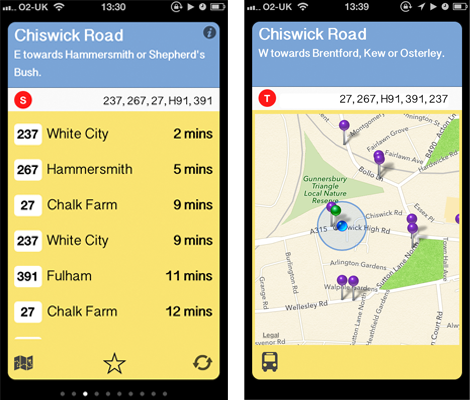 Nearest Bus uses the TfL Countdown prediction service to show you when the next bus is coming at the stops near you, so you know when to run for the stop, or when to think about catching a taxi instead.
On the back of the card, Nearest Bus will show you where the bus stop is, and where you are. Handy if you are not familiar with the area.
If you don't live close enough to a stop you use often, mark it as a favourite, and it will always show if you are within 1.5 miles of it.
Nearest Bus uses the same bus arrival data that the official red-on-black TfL Countdown displays use, which means that you can be assured of the same accuracy even if you are in the back end of Barnes or the middle of Trafalgar Square.
Except it's in your pocket, and at every bus stop.
Naturally, this application requires you to be in London, and within 250m of at least one bus stop. If TfL's service is down, then there is nothing I can do - no data from TfL means no data.
This application is not affiliated with Transport for London (TfL) in any way.
It is designed for you to quickly see when a bus is coming. It's not a bus planner (that'd be the excellent London Travel).
If you are not in London, or within 250m of a bus stop, it's pretty useless. If you live in the US, don't buy it. Or rather, DO buy it, but don't complain about it.
Read the first one again.
If you have any feedback, it's always welcome: support@fastchicken.co.nz